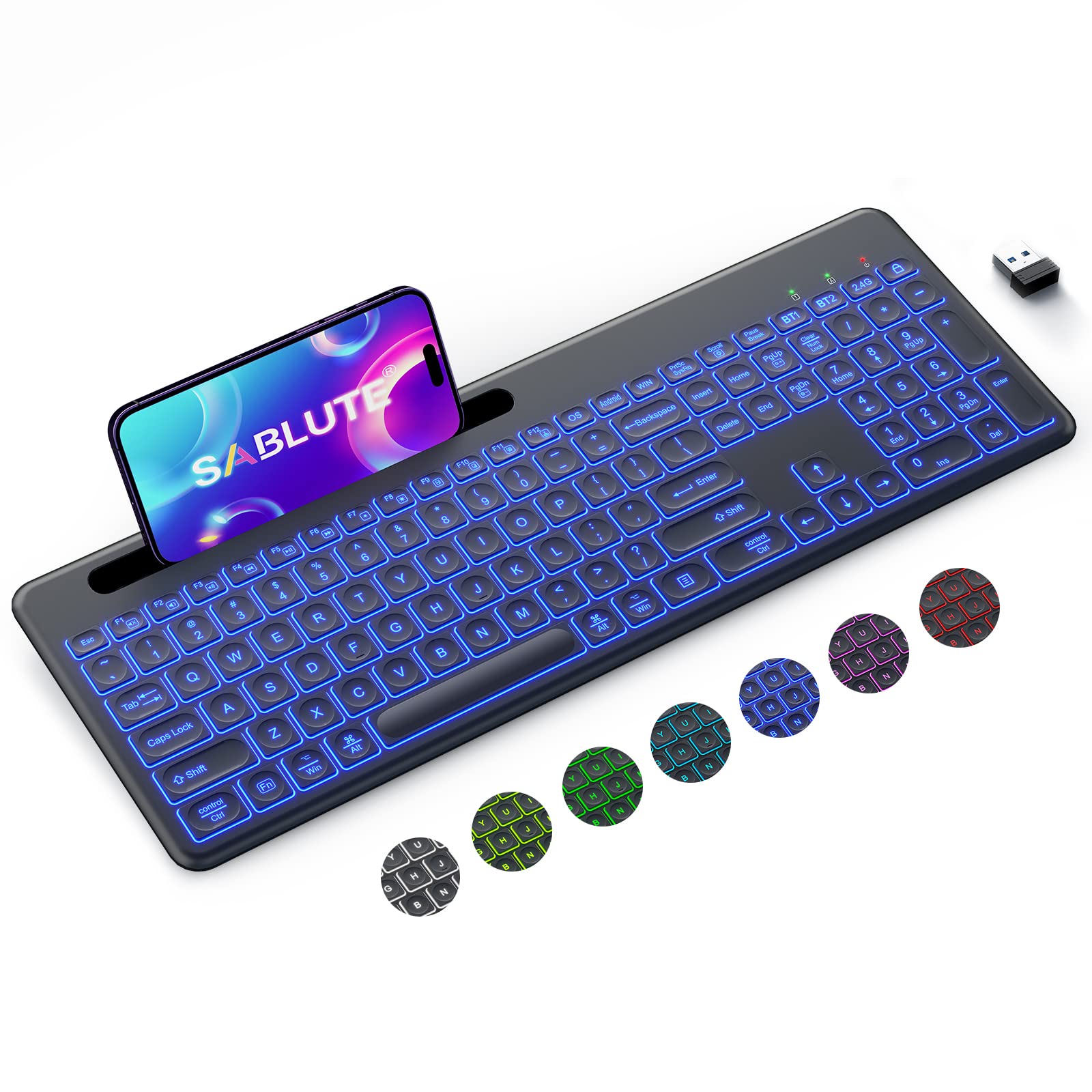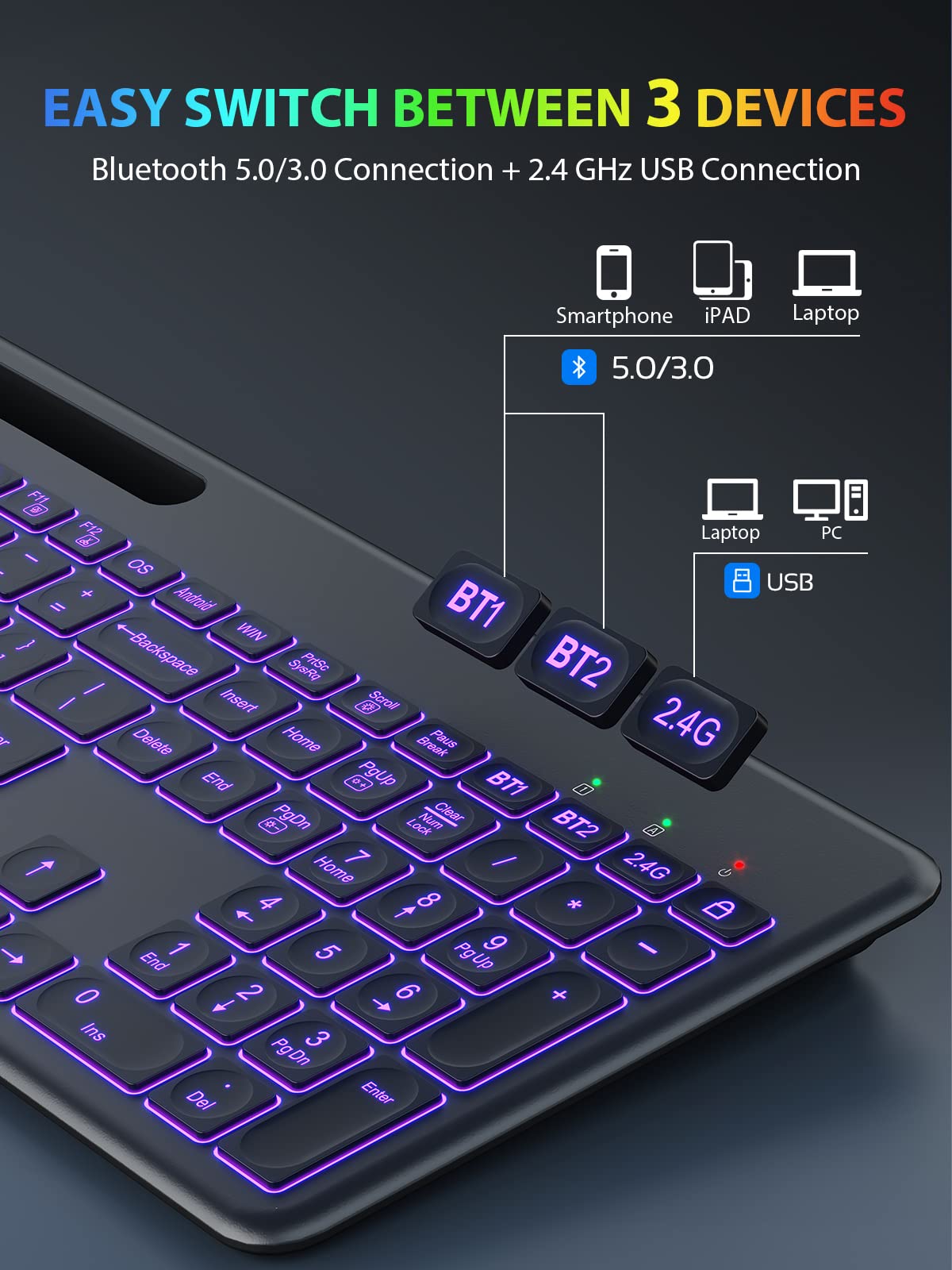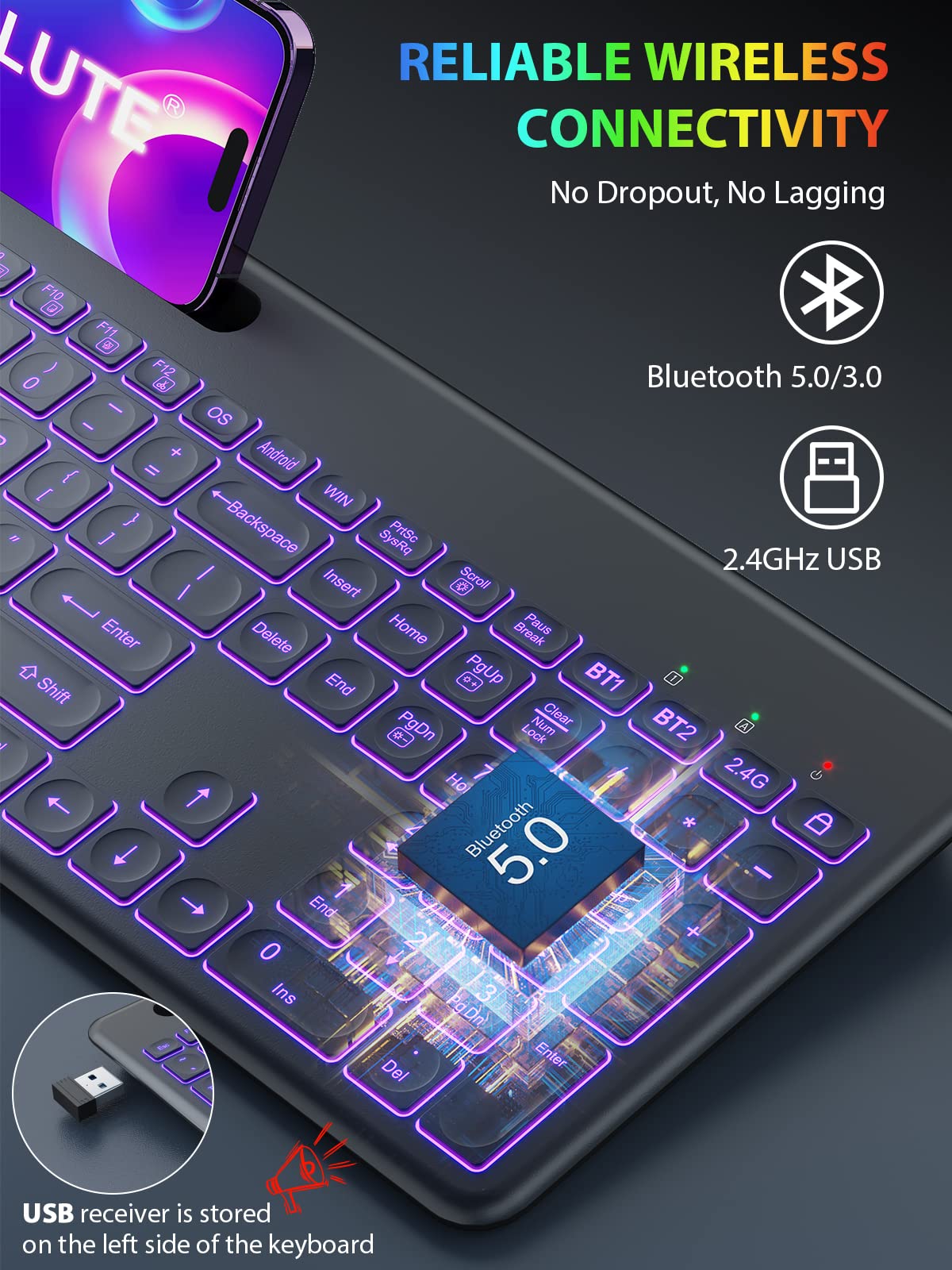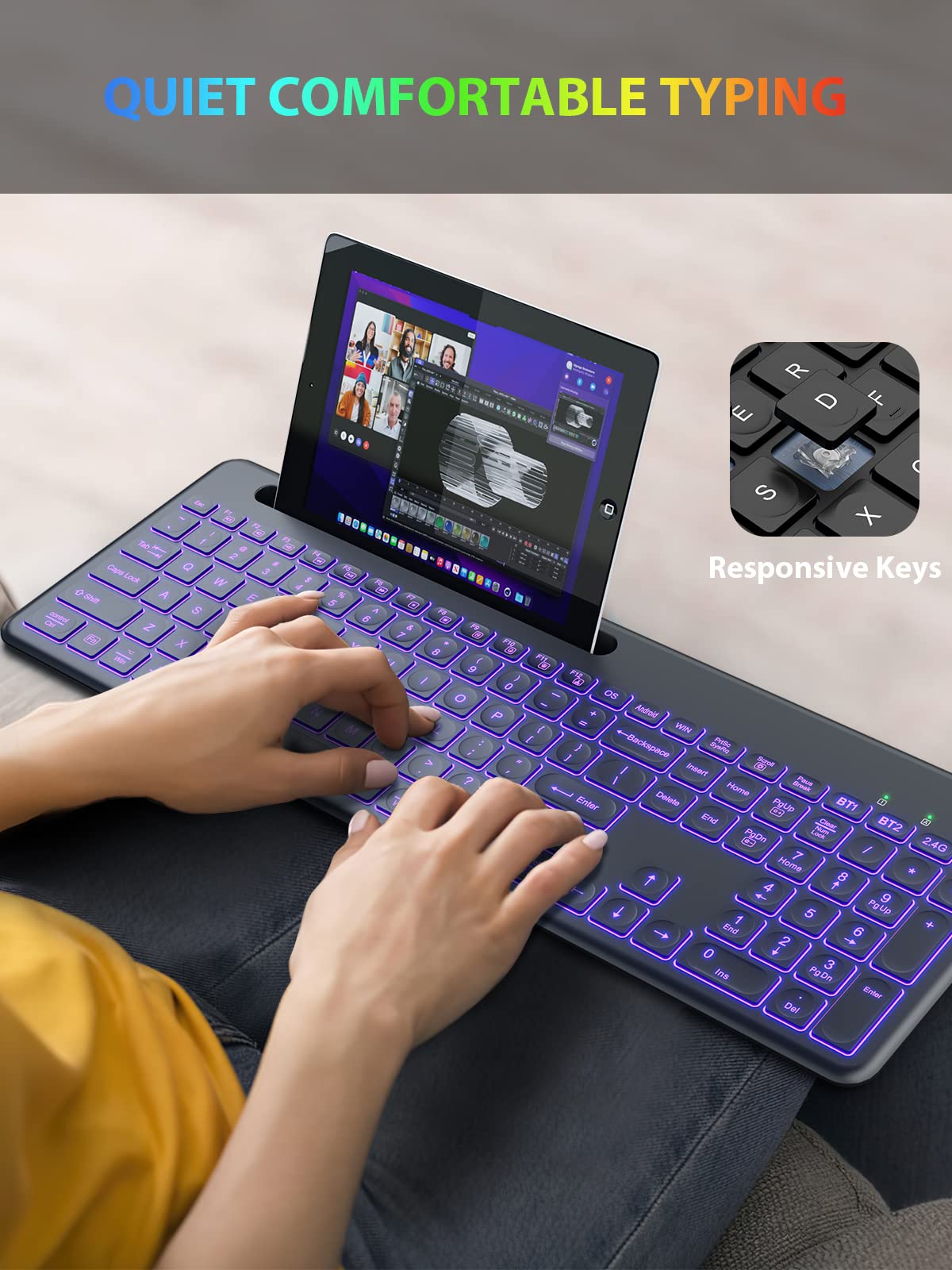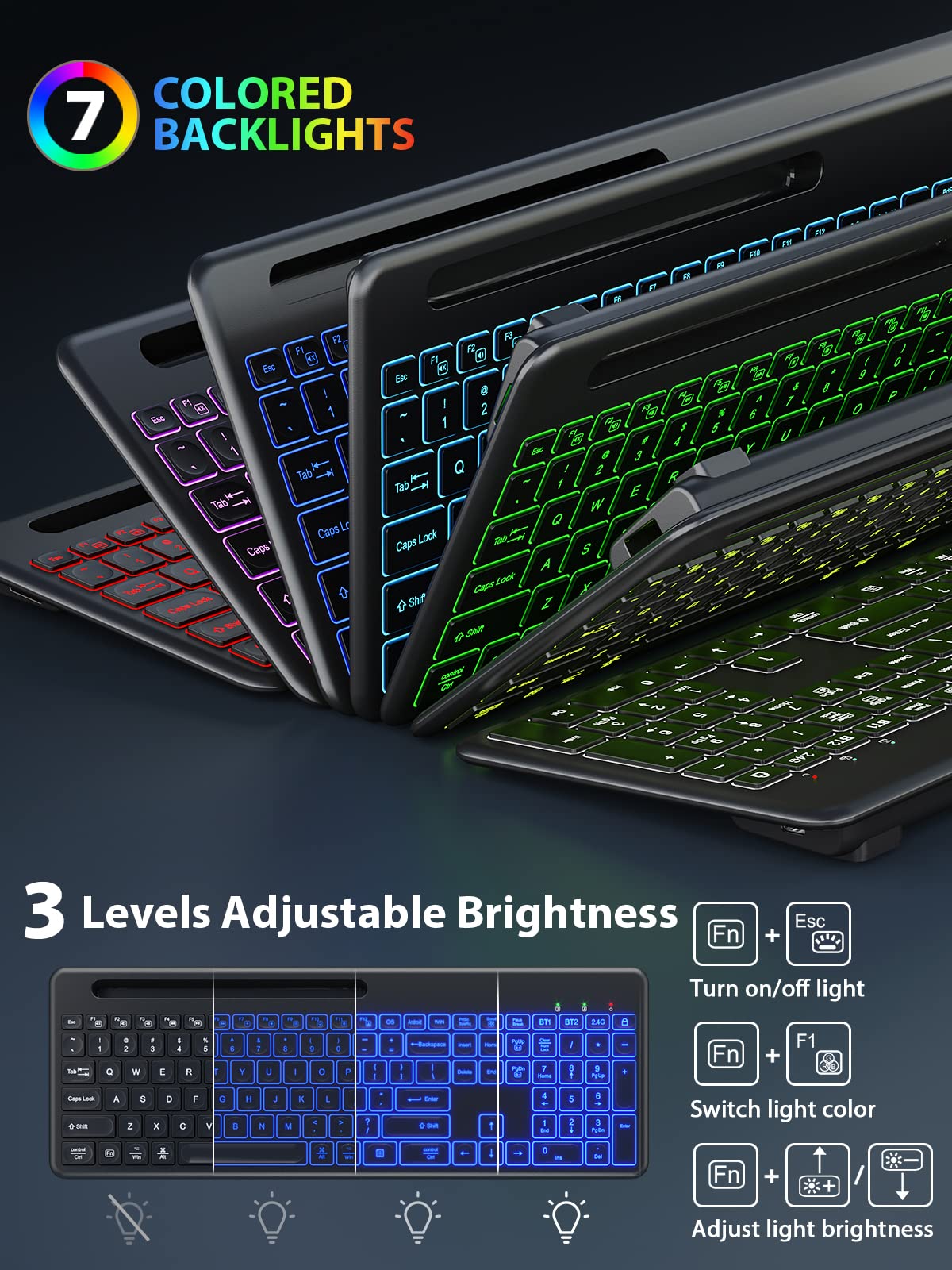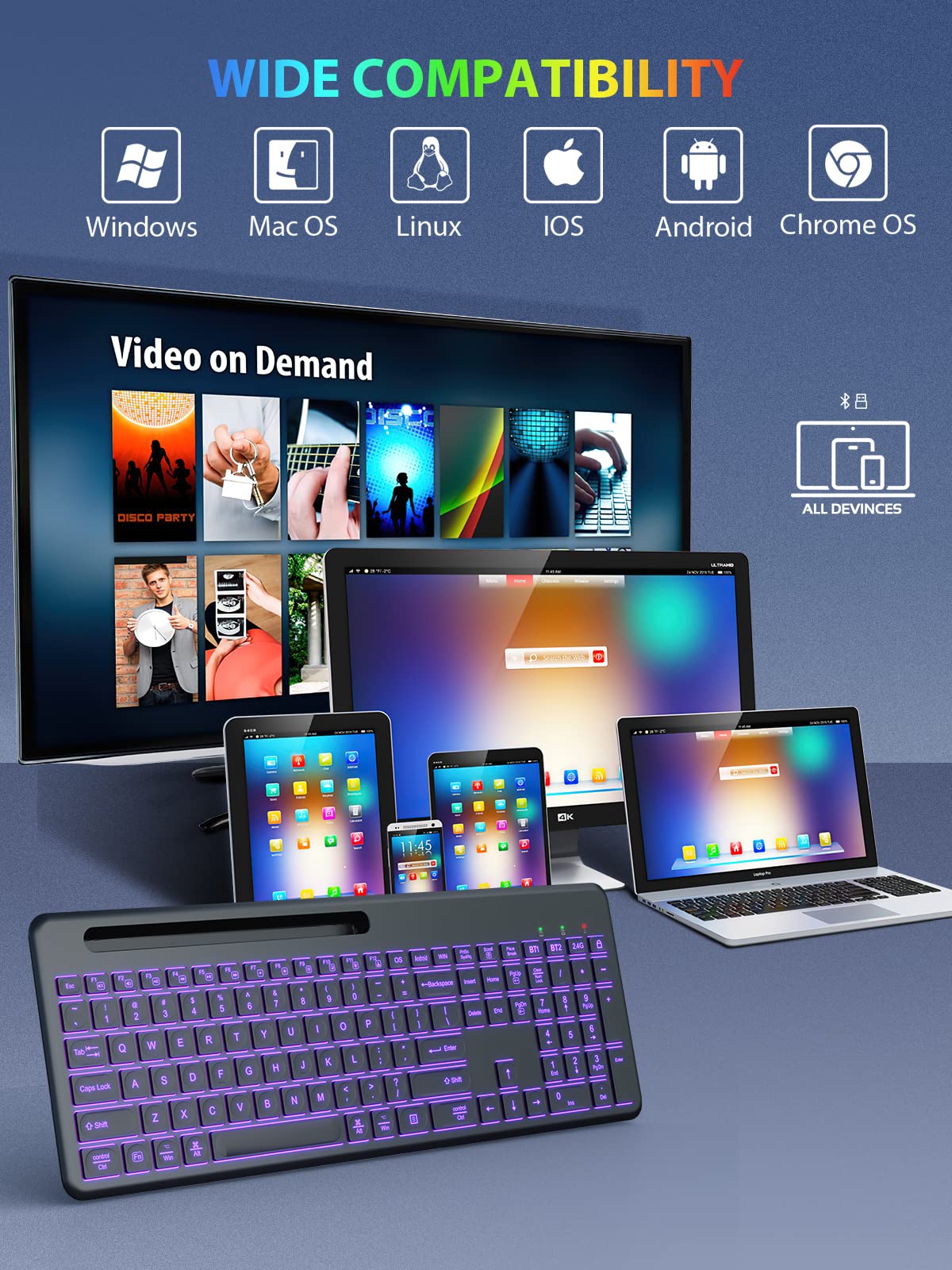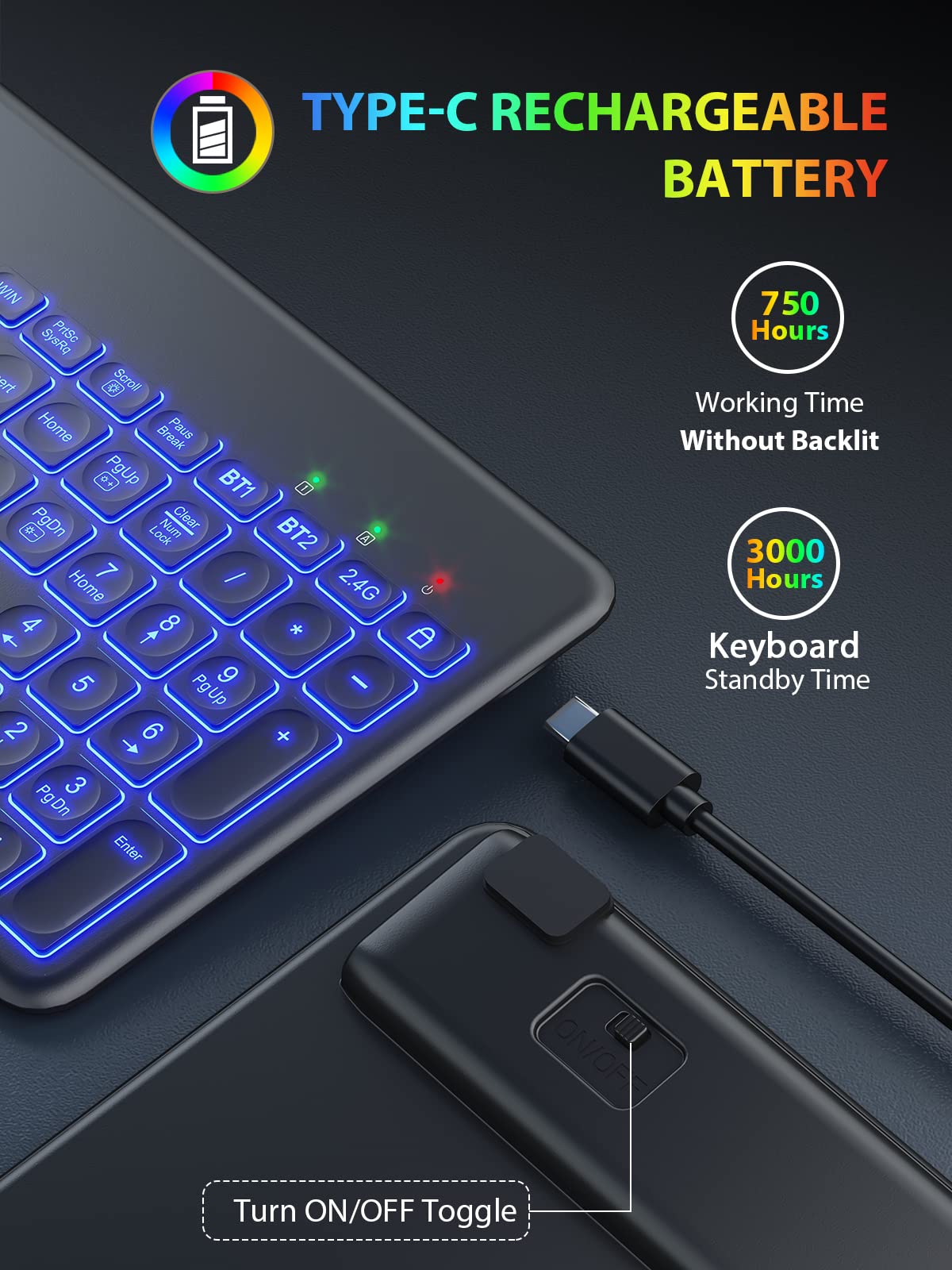 SABLUTE Wireless Keyboard, Dual Mode(Bluetooth, 2.4GHz), Backlit, Phone Holder-KN7
---
Brand

SABLUTE

Compatible Devices

PC, Laptop, Tablet, Desktop Computer, Smart Phone, Smart TV, Chromebook, Notebook, IPad, iPhone, iMac, Macbook, Dell XPS 13, XPS 15, Dell Inspiron, HP ENVY, HP Pavilion, HP Spectre

 

See more

Connectivity Technology

Bluetooth, 2.4GHz USB

Keyboard Description

Backlit, Rechargeable, Bluetooth, USB, Silent, Slim

Recommended Uses For Product

Office

Special Feature

Changeable Backlit, Full Size with Number Pad, Rechargeable, 2.4GHz, BT 3.0 and BT 5.0 Mode, Silent and Comfortable Tying

Color

Black

Operating System

Linux, Chrome OS, Windows, IOS, Android

Number of Keys

109

Keyboard backlighting color support

Single Color
Shipping & Handling

We offer FREE shipping via FedEx to the Contiguous United States for most products.  Most of our in-stock orders ship in 24 hours. Delivery time within the United States is 3-5 days. 

*Please keep in mind that when things happen like national holidays, inventory shortages, shipping carrier delays, customs delays, extreme weather, and other scenarios that we, unfortunately, have no control over, your delivery may be delayed. We appreciate your patience in those instances.

Shipping Address Modification

Because we aim to fulfill orders as quickly as possible, after 12 p.m. EST each day, we cannot change the shipping address or other details on your order. You are welcome to return the item to us in accordance with our Return Policy.

Order Cancellation

If you want to cancel your order, please email us at sablute@outlook.com as soon as possible. We will issue a full refund if the product has not yet start to ship. If the product is in the progress of delivery, it cannot be canceled.

Backordered Items

In the event an item you've ordered is out of stock, we will ship the items available and ship the out-of-stock item(s) as soon as they become available via an expedited method at no cost to you. Tips Shipping times are estimated and not guaranteed - delays may happen due to weather, shipping carrier or customs delays, inventory shortages, or other events that we have no control over. We'll always do everything we can to make sure your order gets to you as quickly as possible. If you have any questions about shipping, please email us at sablute@outlook.com . 

Other considerations

If you find that the logistics package is damaged after receipt, please take a photo in time to keep the evidence of damage and labels on the outside of the package for verification.
Note: To explain any return application, please contact the official email or phone attached first. Any return or exchange without prior application will not be accepted.

Return & Exchange:

1. Conditions of return

(1) Return and exchange period: within 60 days after the order is issued

(2) Applicable circumstances for return and exchange: damage caused by non-buyers such as transportation(Free return and exchange).

(3) What information needs to be provided to apply for a return or exchange: order number, SKU on the box, photo proof

2. The process of return and exchange

Step 1: Mail directly to the customer service mailbox, we will process the return application within 24 hours and reply to the processing result.(E-mail:sablute@outlook.com/phone:7189095928)

Step 2: What the customer should do after receiving the response of the processing result: mail the item to our delivery address and inform the tracking number.

Step three (if needed): I will re-ship the goods and update the tracking number after receiving the return.

3. Return address:

(1)C/O 1175 Florence Columbus Road UNITB(A12-A35)Bordentown New Jersey 08505

(2)C/O 100 Lawrence Blvd Hainesport NJ 08036

(3)C/O 13725 Pipeline Avenue Chino California 91710

(4)C/O 14779 Bar Harbor Rd Fontana California 92336

4. Other supplements: There is no pickup service.

Refund

1. Refund amount

(1) Applicable situation for full refund: return(Free return and exchange).

(2) Applicable circumstances for partial refunds: For example, missing parts (not re-sent, and a certain amount of compensation), defects are acceptable.

After-sales contact information

Email: sablute@outlook.com

Phone:7189095928

Return&Exchange Adrress: 

(1)C/O 1175 Florence Columbus Road UNITB(A12-A35)Bordentown New Jersey 08505

(2)C/O 100 Lawrence Blvd Hainesport NJ 08036

(3)C/O 13725 Pipeline Avenue Chino California 91710

(4)C/O 14779 Bar Harbor Rd Fontana California 92336